Take Me Out To The Ball Game
As I am sure you're sick of hearing, the Ht Ultimate is underway with the MLB season beginning. While the pack of sports nerds can now figure out who's the best of the best the rest of the IRC denizens must be glad we've move most of it over to #HostileSports. As much of a headache administering the 1st fantasy league has been so far (can't please everyone!) this has still been one of the best pools I've been a part of so far and even though baseball is one of the more boring of sports fantasy-wise it's a wet dream. So after a couple of months of play here's the first update of the league for all to see with team by team breakdowns.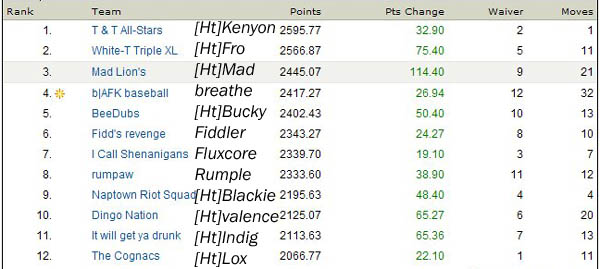 1st. [Ht]Kenyon isn't a huge surprise as our current leader because well, he's a huge sports nerd in his own right. What is a surprise is that his team was auto-drafted and after week 1 and a non-team update he was in last place. But since that early road bump he's been on a tear with #1 ranked Berkman leading the way in a big way. Add to that Soriano's triumphant return from injury, break out seasons for Soto and Church and big points from both Utley and Papelbon it won't be a big surprise if Kenyon's in the top 3 come season end.
2nd. [Ht]Fro's team is stacked and he's been either in 1st or 2nd all the way so far. There's no real holes in his line-up and he features one of the better bullpens and can even afford to keep a strong pitcher on the bench thanks to some savvy free agent signings. Most of the sports nerds are worried he'll be taking the MLB crown this year even if they don't admit it.
3rd. [Ht]Mad's squad has been hot n' cold with a bottom tier position to start with but thanks to stellar pitching and a few trades this squad has moved on up. There's a key injury that could begin the spiral out of the top 3 but only time will tell. Arguably the best rotation in the league could make or break this season, as it's always risky to bank on your pitchers over every day batters but that's the case as the bats have been cold as of late and strong starts by a few players have begun to tail off.
4th. Breathe's team continues to be overhauled with the most trades and moves (33) this season. Some of those trades have been good and we've seen his line-up become more beefed but in the past few weeks a lot of bad luck has happened. Most of this has been down to injuries and it seems being on Breathe's team is the kiss of death for some players and then others, like Volquez and Martinez have flourished once off his team. But his baseball knowledge will keep him knee deep in potential free agents that could make the difference down the stretch and expect him to use up all his moves before the all star break.
5th. [Ht]Wyld has been in the upper middle of the league all year and has a formidable squad. Decimated by injuries lately, with 3 current players on the DL, he's lucky that triple crown threat Josh Hamilton has carried his team. FA signing Stephen Drew has been a great addition and Dan Uggla has been on fire as of late. With strong pitching there's no doubt Bucky will be in the top 5 as long as no one else goes down for a long duration.
6th. Fiddlers team was the one most talked about at the start of the season, with some solid strength and pitching that can produce it didn't help Fiddler managed to snag the big FA signing of the year, Carlos Quentin, who's been lighting it up lately. Fiddler's been up and down the middle of the standings and continues to slip and slide around. With 3 current injuries things can only get better right?
7th. Fluxcore is the first to admit his strongest sport isn't baseball and after some early trade drama this was evident, but don't discount him he's been in the middle of the pack for awhile and has Vernon Wells on the DL. A good trade and solid players will ensure he gets a decent finish even with not knowing every stupid baseball stat out there.
8th. Rumple has had the most movement throughout the standings, being in 1st for a few days, then slipping to third for most of the rest he's slid out of contention lately. I dunno why, his teams pretty good and his players aren't playing horribly. It could be a bit of team mis-management as this weeks line-up features an empty hole in his reliever spot and hot players like Gordon, Byrnes and Matthews Jr. all riding the pine.
9th. [Ht]Blackie's biggest problem has to be leaving two of the older injured pitchers out there, Pedro and Schilling, on his line-up for so long. Neither have done anything this year and don't look too, maybe a late run by Pedro. Lucky for him he's pretty deep everywhere to make up for this with good pitching to make up for it and some real sluggers with Manny, Tejada and 2008 pimp Chipper Jones. Even Pujols slips unnoticed on this team with all that depth, watch out as this line-up could climb quickly with some added depth to round out his positions.
10th. [Ht]Valence has always said he's the top fantasy sports nerd but he's had nothing but bad luck and mis-management to begin the season. Sure, some bad drops and injuries have hurt and he's begun his climb out of the basement he dwelled in for so long. Another of the best FA signings has been McLouth but he's going to need plenty of help to climb into the top 3 this year down already 500 from the lead.
11th. [Ht]Indig knew he'd have a hard time being able to manage his team from prison but he's done alright, until the injury bug hit. Losing ARod and Derrek Lee slowing down, you knew it wasn't going to go well. But the pitching is good, the hitting is there and Indig doesn't get raped in his cell when the lights go out anymore for having so many Yankees.
12th. [Ht]Lox's sad story of the last position is actually a good one. It all started with the release of Yahoo Live and Lox's addiction to watching boobies and horseheads. After many night of hard spamming to see nudity Yahoo decided to shut Lox down and banned his account, which is tied to his Yahoo Sports account. So, he can blame mis-management, no sorry…no management on his inevitable last place finish as he begins to run out of things to bribe me with to do his roster moves week to week. Boohoo.