So Long and Thanks For All The Fish Filefront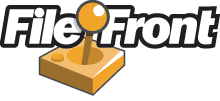 Alright, let the shock settle in before reading any further. Yeah that's right, Filefront is shutting down and you have four days to download whatever from it's huge array of storage space. Here is the reason for the sudden closure..
Dear FileFront User:

We regret to inform you that due to the current economic conditions we are forced to indefinitely suspend the FileFront site operations on March 30, 2009. If you have uploaded files, images or posted blogs, or if you would like to download some of your favorite files, please take this opportunity to download them before March 30th when the site will be suspended.

We would like to give a warm thank you to all of you who have been part of the FileFront communities we have built together. Your support has had a meaningful impact for all of us here at FileFront. Again, we want to give you a sincere "thank you" for your support over the years and wish you all the very best.

Keep gaming alive,

FileFront Management and Team.

Contact_us@filefront.com
Sucks! I remember using Filefront when it just began a long time ago. Quiet, nine so years ago is a long time in internet terms ok? Seriously though, Filefront was the source for all QWTF stuff, hell any FPS stuff. They did have a dedicated folder/section for QWTF maps, sadly the entire thing is gone. I searched the site in hopes of finding old QWTF maps so Ticknest could resume his QWTF recording project. Damn you economy!! Let's all have a moment of silence for Filefront on the 30th.
2 Responses to "So Long and Thanks For All The Fish Filefront"
bl4ckie Says:
March 26th, 2009 at 4:57 pm

sucks balls… remember downloading pretty much anything and everything from filefront sucks this shits going down

[Ht]warning Says:
April 3rd, 2009 at 8:59 am

Its cool the former owners bought it back and saved it from the brink of certain doom! No worries now.
Leave a Response