Reality Check: Rob & Big
Alright, it's time for the final reality check and this one is my favorite of all the reality shows, Rob & Big. It's on Mtv and is a 30 minute look into the relationship between Rob Dyrdek a pro skater and his best bud and former bodyguard, the enormous Big. Even though the premise doesn't sound like anything special for some reason it is. It's one of Mtv's highest rated shows of all time and just has something always hilarious to see even though it's just a look at them bumming around their day to day. The supporting cast includes Rob's li'l cousin who's also his assistant and the animals, an english bulldog Meat Bag and a mini-horse aptly named Mini-horse.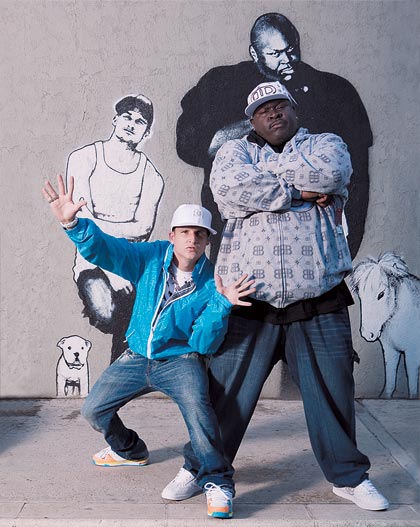 Now in it's 3rd season this show continues to be hilarious as they do all kinds of crazy shit but the great thing about them is they are all very likeable mofos and Rob's loaded thanks to sponsorships with DC, Red Bull, Silver Trucks, Alien Workshop, Reflex, and Spy Optic so he will spend his cash on anything, be it remote controlled helicopters to thrash to the gayest paint job of all time. Overall it's more of the witty chit chat the 2 best friends got going with each other as they tackle rich people problems and for once, you don't want them to die in a fire because they have more money than you.